Things I'm loving this week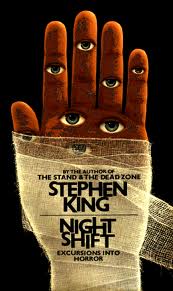 Night Shift by Stephen King.  I first read this book of short stories as a teen and I remember being terrified by at least half — if not all — of the stories. I recently stumbled upon my old crumbling paperback (price: $3.50) with the yellowing pages and decided to give it another read and it's just as terrifying now. King is the undisputed master of horror fiction. Also on the growing list of places I can no longer go: laundromat, truck stop, Maine, cornfield/Iowa, any closet at night….
Fall TV. I'm not a big TV watcher because I can rarely stay awake past 8:30 p.m. (sad, I know), but….I managed to stay awake last night for "This is Us" and I'm hoping to make it to 9 p.m. tonight for the return of "Will & Grace".
The Plymouth. It was far too hot to order pizza or cook anything on Sunday, so we packed the up the whole fam damily and went downtown to our favorite Erie restaurant — the Plymouth. Dinner for everyone, including two beers for the husband = $34.50.  You couldn't even get away that cheap at most fast-food places. And, we got to eat outside in the patio under the stars. (I could do without all the smokers out there, but….).
Things I'm not loving this week
This lingering heat/humidity.  It was 88 degrees on Tuesday. SEPTEMBER 26 in northwestern Pennsylvania. That's ridiculous. Enough is enough. I see what's happening here….Erie is going to go straight from summer to winter, and that is just not fair. We all deserve at least a month or more of that blessedly cool and perfect fall weather!
Price of greeting cards. Monday was my mom's birthday so I stopped to get her a card, and literally exclaimed: ARE you shitting me? when I turned one over to see a $7 price tag. Most of the Mom birthday cards were elaborate and pricey. I was hard pressed to find one less than $5. And, this was at Walmart, people.  Makes me long for the days I could tell the kids to make cards with construction paper and crayons and call it a day.
45s ridiculously f-ed up priorities. He completely ignores the 3.5 million suffering in Puerto Rico and spends his entire weekend ruining football Sunday for everyone in some insane tweetstorm (I don't know about you, but I still can't scroll my FB feed). For the record, I called this one from the start when I told my husband: He won't help them because they're brown. Also, he probably doesn't even know they are American citizens.