Things I'm loving this week
Dawn Chorus. In Erie, in spring, it's not uncommon to be woken by a symphony of birds that start singing just before dawn. Now, thanks to the Carnegie Museum of History and their new app, it can be spring year-round and you can wake every DAY to a Dawn Chorus of birds.  So cool.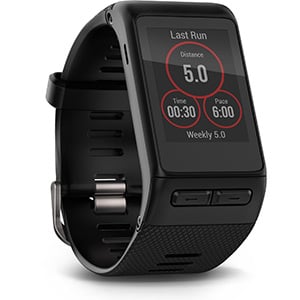 Garmin Vivoactive HR. Injuries have prevented me from running for the past month…so I've been indulging in a little retail therapy, including this awesome new Garmin Vivoactive HR which I can use in the pool (laps are replacing my runs right now). It counts my laps in the pool and also counts my steps during the day, my sleep at night, how many stairs I climb, and even gives me the weather forecast, reminds me to "Move!" if I've been idle too long, and alerts me when I get a new email (I shut that off because it got super annoying!). Now…if only I could run with the damned thing…
The busy season. Spring — particularly March/April — is the craziest time in secondary ed. Not only are you rushing to finish the academic  year, but you have to look four to five months ahead to cover the summer months when students are gone and faculty members are nearly impossible to get a hold on. It's stressful, but in some sick way (perhaps a leftover from my newspaper on-deadline days), it's exciting and fun. Truth is: I'd rather be super busy than bored. Also, it makes the ugliest months of the year go buy in a blur.
Things I'm not loving this week
Sean Spicer. This mouthpiece/chronic liar is no longer funny…he's just a Minister of Propaganda. I don't even know why real journalists even go to his stupid press briefings bullshit briefings anymore. 
Folding/matching socks. There's currently a standoff going on my house….a basket of clean socks sitting in the living room. I put it there hoping one of the other three people who live in my house who wear the socks in the basket might be inspired to deal with it while they watch TV. It's been five day now….